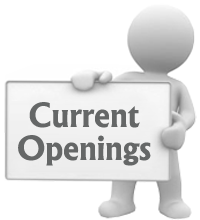 Join The team that refuse to stop learning
Jakarta, Indonesia Market Openings
1. Sales Manager ( 03 open positions) - Preferably female
Role & Responsibilities
● Generate new business opportunities in Indonesia and meet business targets
● Research and build prospective client database
● Interact with prospective clients, understand their requirements & pitch our services to them
● Schedule and execute product demonstration
● Work internally with the management and marketing teams to ensure proper quality and quantity of demonstrations
● Maintain client relationships
Requirements and Qualifications
● Previous business sales experience of 1-3 years in Indonesia
● Fluency in Bahasa & English
● Must be at least 18 years of age
● Excellent written and verbal communication skills
● Self-motivated, energetic & passionate
Location: Jakarta Indonesia
Salary: Negotiable Fixed + Incentives
2. Marketing and Sales Intern (01 open position) - Preferably female
Role & Responsibilities
● Generate new business opportunities in Indonesia
● Research and build prospective client database
● Interact with prospective clients, understand their requirements & pitch our services to them
● Schedule and execute product demonstration
● Work internally with the management and marketing teams to ensure proper quality and quantity of demonstrations
● Maintain client relationships
Requirements and Qualifications
● Fluency in Bahasa & English
● Must be at least 18 years of age
● Excellent written and verbal communication skills
● Self-motivated, energetic & passionate
Location: Jakarta Indonesia
Salary:Fixed Salary + Opportunity for full time offer
3. Operation Executive Intern (02 open positions) - Male
Role & Responsibilities
● Research and build prospective client database
● Interact with prospective clients, understand their requirements & make data base
● Schedule and execute product demonstration and download operation report
● Work internally with the management and operation teams to ensure proper quality of operation
● Maintain quality and work on field for installation and maintenance of tablet
● All worked assigned by operation team

Requirements and Qualifications
● Fluency in Bahasa
● Must be at least 18 years of age
● Excellent written and verbal communication skills
● Self-motivated, energetic & passionate
Location: Jakarta Indonesia
Salary:Fixed Salary + Opportunity for full time offer
Bangalore, India Job Openings
1. Marketing Assistant ( 02 open positions ) - Preferably female
Roles & Responsibilities:
1. Recommend product enhancements by reviewing the existing product, understanding customers' needs & market research.
2. Carry out business development for the product, identify & acquire potential customers & use cases.
3. Support product development efforts by charting out proposals along with communication documents and delivering agreed activities
4. Responsible for the P&L, work closely with the top management to optimize the revenue & cost models to improve profitability
5. Translate technical details into benefits for the user
6. Produce valuable and engaging content for the website, social media and blog that attracts and converts our target groups
Skill Required:
1. Self-driven, energetic & passionate
2. Pleasant persona with good networking ability
3. Strong strategic acumen coupled with execution capability
4. Analytical mind and strong quantitative skills
5. Excellent Oral and Written Communication Skill
6. Well verse with MS Office Tools (Word, PowerPoint and Excel) and Photoshop software
7. Numerically literate, comfortable working with numbers, making sense of metrics and processing figures with spreadsheet
8. A sense of aesthetics and a love for great copy and witty communication
9. Familiarity with digital marketing tools is a big plus.
Eligibility Criteria – Preferably Female Graduates in any discipline
.Location – Bangalore, India (Immediate joining)
Experience – 0-1 Year (Fresh Graduates)
Interested in being a part of an ever-growing team?
Send your CV / Resume to saeed@instachk.today
Visit our knowledge website: www.instachk.today